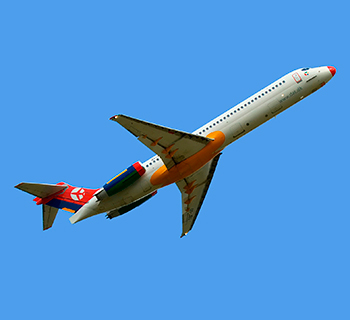 Danish Air Transport, or DAT, is a Danish airline founded in 1989.
Danish Air Transports MD87 landed in Billund September 19 2008.
Color setting and logo: Finn Nygaard.
MD87 Dimensions: Overall length: 130 ft 5 in (39.75 m). 
Powerplant: The MD-87 was offered with either the 20,000 lbf (89 kN) thrust JT8D-217C or the 21,000 lbf (93 kN) thrust -219.
Performance: Two basic versions of the MD-87 were made available with either an MTOW of 140,000 lb (64,000 kg) and MLW of 128,000 lb (58,000 kg) or an MTOW of 149,000 lb (68,000 kg) and an MLW of 130,000 lb (59,000 kg). Fuel capacity is 5,840 US gal (22,100 l), increasing to 6,970 US gal (26,400 l) with the incorporation of two auxiliary fuel tanks. Typical range with 130 passengers, is 2,370 nmi (4,390 km) increasing to 2,900 nmi (5,400 km) with two auxiliary fuel tanks.
Cabin: The MD-87 provides typical mixed-class seating for 114 passengers or 130 in an all economy layout (five-abreast 31 in and 32 in seat pitch). The maximum seating, exit limited, is for 139 passengers.